Living in the center of Barcelona is a privilege for some and a torture for others. So, unless you're on holidays and enjoying one of the rental apartments in Barcelona, locals tend to avoid areas of high tourist concentration.
Although living in less touristic neighborhoods implies being far from emblematic spots like the Cathedral, the Town Hall, the Palace of the Generalitat, the tremendously charming square of San Felipe Neri, the church of Santa Maria del Pi or the Gothic Quarter, it doesn't mean that we cannot enjoy other gems that are spread over the ten districts of the city.
Sagrada Familia: the other must-see of Barcelona
Do you want to live quietly but without renouncing to the all the advantages of an incredible city? In the neighborhood of the Sagrada Familia you have as epicenter two national architectural icons: the temple of Gaudí that gives name to the neighborhood (Sagrada Familia) and the modernist complex of the Hospital de Sant Pau.
Both gather hordes of tourists around them, but just a block away from both spots you can enjoy the calm of a neighborhood with its own essence despite being in a neighborhood that gathers more than 3 million annual tourists.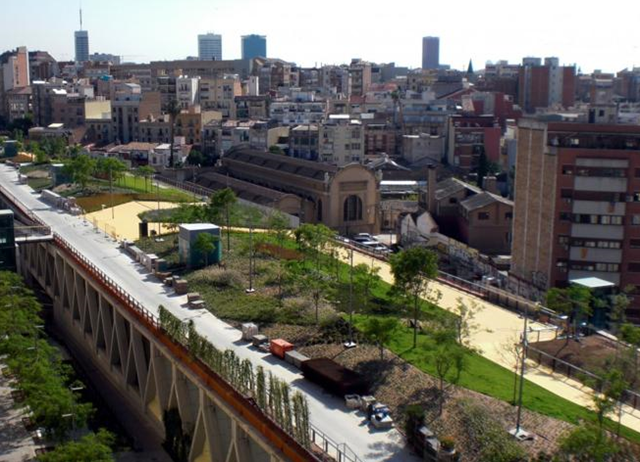 Gracia: the neighborhood with a village soul
You don't like big cities? Do you want to enjoy the comforts of a capital city but without its stress and traffic? In the neighborhood of Gracia you will find numerous squares where it seems that all the clocks have stopped, and streets full of amenities for the enjoyment of their neighbors.
The San Juan Bautista's Church, the bunkers of Diamante square, Rovira i Trias and Sol squares (perfect to take an aperitif), the monumental square of the Vila de Gracia, the commercial street of Gran de Gracia and finally the steep streets that take us to Park Güell are just some of the things that will save us a trip to the Gothic Quarter to enjoy a great day in the city.
Sants: authenticity at the gates of the city
The most authentic and fully residential neighborhoods are usually located on the outskirts of large cities, almost bordering with other municipalities. In the case of Sants it is a truth in halves, since just by crossing one of its main streets we would suddenly find ourselves in the city of L'Hospitalet de Llobregat, also just approaching one of the sides of that same street we would find the second railway station with the largest transit of the country that is also one of the main gateways to the city.
But Sants is not just a set of houses and residential blocks: it is also a place that makes you feel like a real citizen of Barcelona where you can experience the atmosphere of the streets, taverns and parks without having the feeling of being in the middle of a theme park for tourists.